Fuji Highlights Bike Tour
Full-Day
Panoramic Views
Art, Culture and Outdoors
Tour highlights:
bike on three lakeshores with outstanding views of Mt Fuji and the surrounding forests and countryside
travel between the lakes in our support car so you can see the best sights without having to bike the long hills and less-scenic roads connecting them
explore a traditional artisans' village
stop at a mountainside pagoda that offers Japan's most iconic view of Mt Fuji
visit vast flower fields at the foot of the mountain or a cave with spectacular ice formations (depending on the season)
see Mt Fuji not only from the most famous viewpoints but also from quiet, picturesque country roads relatively few tourists visit
this is one of our best tours for seeing cherry blossoms in spring and colorful leaves in fall
Difficulty:
Easy
Typical duration:
6 hours
Maximum duration:
7 hours
Terrain:
Flat bike paths and country roads
Length:
40 km (25 mi)
Total elevation gain:
30 m
Departs from:
Kawaguchiko Train Station
Tour fee:
¥20,000/person for 3 or more people, ¥30,000/person for 2 people or ¥60,000 for 1 person
What's included:
Support car (to ride in between flat, scenic areas and whenever you get tired), English-speaking guide, bicycle, entrance fee for traditional village or cave visited during the tour, basic insurance, helmet, bottled water, lunch and snacks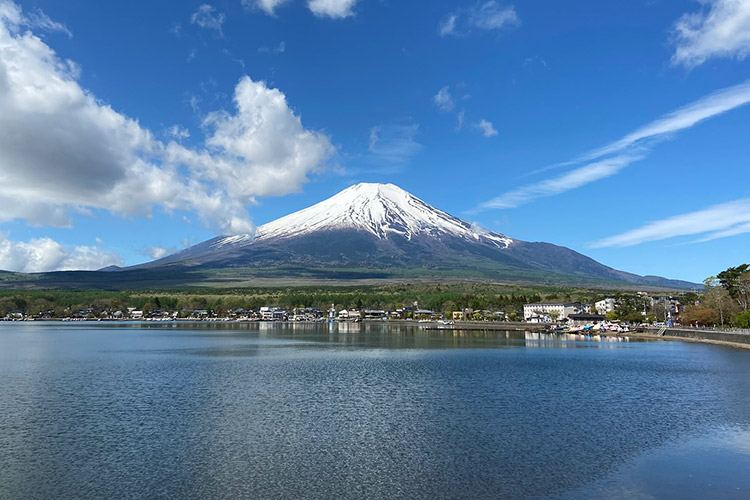 Description: This tour takes you to the best sights and viewpoints around three of the lakes at the foot of Mount Fuji while keeping the biking distance short enough to be easy for a person of low to average fitness. Our support car drives you between each of the three lakes so you can skip the hills and enjoy a leisurely bike ride on the area's flattest courses. Explore picturesque countryside, including a beautifully-preserved village of thatched-roof houses where artisans make traditional crafts. Pass white swans floating across Fuji's reflection on a lake's surface. Depending on the season, view Mt Fuji foregrounded by vast fields of flowers or visit a cave with spectacular ice formations.