Fuji Vistas Two-Day Bike and Hike Tour
Multi-Day
Panoramic Views
Bike and Hike
Art, Culture and Outdoors
Tour highlights:
Ride around four picturesque lakes in Mt Fuji's foothills
Take four hikes that traverse spectacular landscapes and varied natural environments
Ascend to summits with outstanding panoramic views
Visit a flower park where vast fields of blooms foreground Mt Fuji
Stop at beaches and lakeside outlook points with excellent Fuji views
Cycle under arches formed by maple branches whose leaves turn red in fall
Bike along routes bordered by plum and cherry trees that are covered with red, pink and white blossoms in spring
Difficulty: Easy
Duration: 2 days
Average length per day: 35 km (22 mi), 5 km (3 mi)
Average total elevation gain per day: 150 m (500 ft), 400 m (1,300 ft)
Terrain: Mostly flat country roads, a few hills, Mountain trails
Departs from and ends at: Kawaguchiko Train Station
Tour fee: ¥57,000/person for 3 or more people, ¥85,000/person for 2 people or ¥170,000 for 1 person
What's included: Support car, entrance fee for lookout tower, English-speaking guide, bicycle, basic insurance, helmet, bottled water, lunches and snacks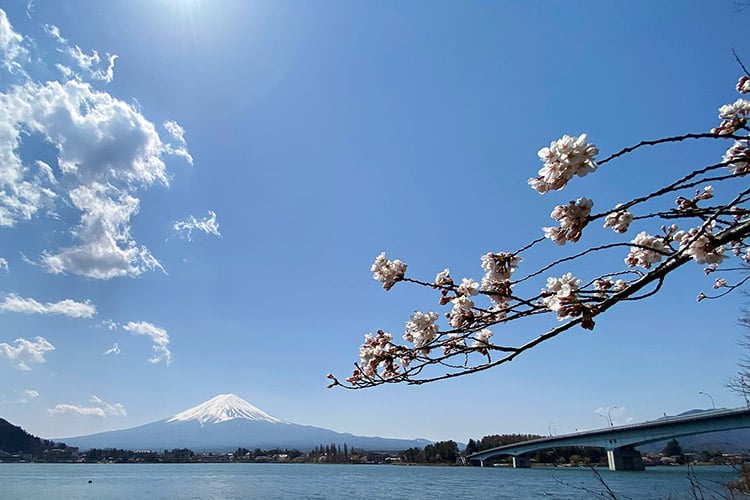 Description: Over the course of two full days, cycle the shores of four scenic lakes in Mt Fuji's foothills and take four short hikes that offer diverse views of the iconic mountain and its surrounding forests and countryside. Each tour day includes two hikes and cycling trips around two lakes.

The first tour day is composed of the itineraries of our Golden Highlands Bike and Hike Tour and our Lake Overlook Bike and Hike Tour. One of the day's hikes ascends a mountainside dotted with wildflowers and blanketed with tall pampas grass that turns gold in fall. The hike is followed by a lakeside ride on dedicated bike paths and a visit to a flower park where Mt Fuji towers behind vast fields of seasonal blooms.

The next hike winds through groves of magnificent white beech trees and hydrangeas that frame Mt Fuji with purple and pink blossoms in summer. After the hike you'll cycle around a second lake to picturesque country roads relatively few tourists ever see, stopping to view a "floating shrine" that is the epitome of traditional Japanese aesthetics.

The second tour day is made up of our Treetop View Bike and Hike Tour, followed by a ride around one of the region's most remote and peaceful lakes. You'll discover the famous Aokigahara "Sea of Trees" Forest and cross its ancient, moss-covered lava beds on your way to a mountaintop lookout tower.

This two-day tour is topped off with a hike to a mountain ridge featuring a breathtaking view of Mt Fuji that is among Japan's best-kept secrets.
Photos from the Fuji Vistas Two-Day Bike and Hike Tour